Chiedza Musengezi reviews an exhibition of works by Luis Meque.
THE LAST PAINTINGS
An exhibition of The Last Paintings of Luis Meque opened at Gallery Delta on 25 August 1998. It commemorated Luis Meque's life and underlined his contribution to the visual arts in Zimbabwe. He had a style distinctly his own, one which matched his defiant and robust voice when he proclaimed his blackness : " I am black. I think black. I paint black ".
Winner of several awards including the National Gallery's 1993 Award for Distinction in Painting, Luis took part in no less than 32 exhibitions in the 10 years during which he painted (1988-98). Some of the exhibitions were held in Europe and America to favourable critical acclaim.
Luis Meque's last works, produced during a brief period of remission between January and March this year, suggest a confidence and an easy pleasure in painting. His brush strokes are swift, broad and spontaneous. The outlines of his figures and forms are fluid. Seemingly effortless, they make drawing and painting look simple. He had mastered the skills. His late palette is founded on dark colours : deep maroons, greens, blues, purples, browns and blacks. They mirror the dark times we are living through. HIV is taking its toll in human lives, unemployment is high and our currency is continually falling in value. However, nearly each painting has red in it. Perhaps there is hope if, like Luis Meque, we are imaginative enough to explore new means of survival. The dark colours reveal too, the personal psychological tones of an unhappy background and were partially influenced by working indoors at night as the artist often did.
Luis Meque was committed to experimentation without which there would be no new art. At times his characteristic playfulness and inattention to detail earned him negative criticism but his style reflects his own reckless attitude to life. Sometimes, he layered his colours (and the layers seldom fit snugly on top of each other) then scratched them away to reveal what was underneath. He delighted in textural surprises made possible through collage or by superimposing water-based and oil-based colours as in the painting " Exit ". In 1997 he produced a collage for an exhibition of wind objects, using an old pair of tattered red overalls flapping on a line stuck onto cardboard and looking like a body both gaily and hopelessly tossed around by the wind. In his last works he was still experimenting. The five large collages on hessian or brown paper and the smaller " Windows " series present new techniques and materials - he was moving in yet another direction.
His immediate environment, the city, as well as his own condition and feelings provided his inspiration. He frequented cafés, bars, night clubs and sometimes walked the streets in order to watch and sketch. He observed himself dispassionately, without flattery. From the urban spaces, Luis extracted personality types such as " Guy and Doll ", " Car Watcher ", " Midnight Woman ", " House Workers ". A remarkable quality about Luis Meque as a painter was his ability to capture the archetypes and the moods that match their situations. He did so in such a way that the viewer can recognize them at once.
One of my favourite paintings even though it does not form part of this exhibition is " City Boys " which depicts two young men of handsome physique wearing trendy clothes. They walk casually amongst buildings presumably night clubs and bars, the dark colours which form the background suggesting that it is night. The mood of the painting is unmistakable - they are happy and carefree night revellers.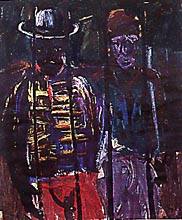 "Cell"
Luis Meque, 1998
115 x 94, 5 cm, mixed media
© Barbara Murray
" Cell " which is part of the last paintings depicts some city boys in a reverse situation. Here, two fashionably dressed young men are locked up behind bars. They are completely under the pressure of their emotions. Luis did not hesitate to distort their facial features to render them expressive. They have extraordinarily long faces, enlarged noses and eyes. Their gloomy situation is reinforced by their grotesque facial features. I found this painting quite evocative - it opened up my imagination and connects well with " City Boys ". Perhaps the night revellers were picked up by the police for rowdy behavior.
But defining the elements of painting too precisely can only limit the meaning. " Cell " may have broader implications. It may be representative of the nature of prisons that we live in, be they political turmoil, unemployment or unhappy relationships. Perhaps the concept of imprisonment was important to Luis. He knew about life behind bars which make the jacket stylish but also probably indicate something more. Imprisoned body ? Imprisoned heart ? Does the way we dress confine us ? The bars also appear in the painting " Seated Woman " where they form a background to a woman consumed with worry. The miserable-looking woman, stripped down to her petticoat, is seated in a dark interior against a white window or opening. Closing off the window are five spaced bars, a result of five broad and bold brush strokes. In other paintings, bars take the form of thin lines on a figure as in " Building with Figure ". For the viewer, the feelings triggered are those of being caged, trapped in a situation, a general failure to break through.

"Building with Figure"
Luis Meque, 1998
96 x 115 cm, mixed media
© Barbara Murray

"Seated Woman"
Luis Meque, 1998
115 x 99 cm, mixed media
© Barbara Murray
Luis gives us another archetype in Woman which could easily be re-titled " City Woman " for she looks very much a young woman about the city. She is young and saucy in her blue body-hugging mini skirt which barely covers her thighs and her yellow top which just sits on her waist. Her straight hair is scooped up and held in place with a white hair comb. Her posture and dress suggest that she is comfortable with the way she is. She stands alone with her back to the viewer. She is not part of the mainstream. Her style of dress signals that she has broken away from conformity perhaps as a way of asserting her own individual freedom. The female figure is not detailed, it only reveals what can be gleaned at a glance. We cannot be sure about the story behind the woman, we can only guess and our imaginations add the narrative. For viewers who read the daily newspaper the painting has a resonance with a report in " The Herald Tribune " on 4 September of a young woman wearing a mini skirt at Mbare Musika who had to run for her life after a mod had threatened to strip her naked. Representations of non-conformity appealed to Luis. The elements of his work " Friends - Free at Last " reinforce this point.
If a viewer were to look for common elements, windows or openings could not be missed. They feature in many of the last works.
However, his windows are frustrating to look through. Nothing clear or definite is revealed. The windows of the painting " Church and Figure " are dark in colour, no sunbeams are admitted to shed light on shadowy places. What is it Luis was searching for which he never found ? Do the viewers strain to see something even where there is vagueness or nothing ? The painter seems to mock our fondness for certainties. We carve them yet when closely examined these certainties often turn out to be half truths or plain untruths.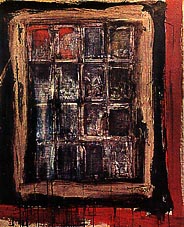 "Crossroads I"
Luis Meque, 1998
110 x 91 cm, mixed media
© Barbara Murray
The three paintings : " Friends - Free at Last ", " Crossroads I " and " Crossroads II " are all about windows and uncertainties. The organiser of the exhibition has grouped them in the same room to emphasise their unity. They comprise of pages ripped out of old novels, pasted onto large brown cardboard surfaces to form a series of 9 x 9,5 x 5 and 4 x 4 squares. On the pages Luis drew figures and symbols. They are arresting pieces in which he employed text to engage the viewer's closer attention. Some of the pages have chapter headings or running titles such as " Reminiscences of my Life ", " A Diagnosis ", " Farewell to Danger " and so on. Bearing in mind that Luis was quite aware that he was not to live long, the printed headings add further insights for us. The pages are like panes of glass through which we can catch glimpses of his life. The figures in " Friends - Free at Last " look like a couple in different postures or perhaps many different couples : standing separately, seated closely, hugging, entwined and so forth. The printed on which they are drawn is formal, final and controlled. It provides a rigid background to the fluid figures. The contrasting elements communicate that a formal and controlled outlook on life diminishes love and tenderness. It threatens intimacy. The figures emphasise the centrality of love and relationships in our lives, further highlighted by the deep red spiral. Much of Luis' work was concerned with the tenuousness of relationships. In " Lovers ", she gives him an intimate caress. In " Guy and Doll ", the woman is huddled on a chair, left in the cold by the man who turns his back, perhaps not wanting a permanent relationship.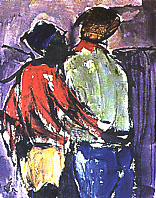 "Lovers"
Luis Meque, 1998
115 x 94 cm, mixed media
© Barbara Murray
In " Friends - Free At Last ", the figures to the bottom left are hardly legible. They shed light on Louis Meque's creative energy and limited time. The brush tip is too broad to give a distinct line, the hairs are separated and Luis seems too much in a hurry to stop and rearrange them. The last figures are reduced to abstract smudges of paint.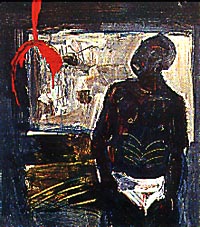 "Figure in Room"
Luis Meque, 1998
115 x 99 cm, mixed media
© Barbara Murray
These paintings also reveal that Luis Meque's final days were characterized by the struggle with death. " Woman Seated " shows an unhappy figure nursing depressing thoughts. Drips of red in the background suggest that her life is in danger. The darkly painted man in " Figure in Room " looks agonised. His ribs are showing, his eye sockets are hollow. Blood drips out of one nostril and there is more blood on his underpants. " Exit " has two figures seated closely. With their backs to the viewer they look into red space, a danger zone. They are exiting this world. " Journey's end ", which resembles " Friends - Free at Last " in its composition, is a recognition by Luis that he could go no further. He had travelled the journey. The viewer can share scenes from his travels by looking closely at the paintings on the pages torn from the book of his life.

"Exit"
Luis Meque, 1998
115 x 94 cm, mixed media
© Barbara Murray

"Friends - Free At Last" (details)
Luis Meque, 1998
186 x 115,5 cm, mixed media / collage
© Barbara Murray
Although Luis Meque might have talked of bad spirits as the possible cause of his illness he did not reveal this in his last paintings. What he communicates is triumph over death. His painting " Victori " suggest there is nothing to fear in death. Transforming gloom into works of art is an admirable quality in a world where fear of death is a major cause of evil. Luis passed away but his life and paintings validate art as a tool for survival. Farewell Luis.