Barbara Pirron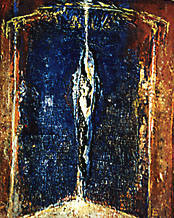 " Altar ", 1999
Mixed media
560x480 mm
© Stephan Beyer
" Fibrous ", 1998
Mixed media
765x1015 mm
© Barbara Pirron
Barbara Pirron is an expressionistic painter. Her brushwork is vibrant, and her subject matter is non-representational " alternative landscape ". Additional to her works on canvas, she also creates small-scale collages and assemblages.
At heart, Barbara describes her mixed media works as an attempt to experiment, and to combine her Euro-African roots, experiences and single-minded involvement with matter.
Having one foot in Europe and the other one in Africa, she is constantly compelled into a dialogue between both sources of inspiration.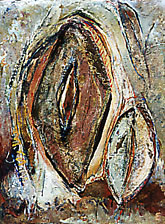 " Textures "

, 1999
Mixed media
795 x 600 mm
© Barbara Pirron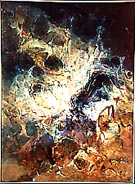 " Erongo Granite ", 1995-98
Oil on canvas
1370 x 1004 mm
© Stephan Beyer
The vast barrenness and simplicity of Namibia's landscapes and the abstracted art elements and dynamic movements link her works as much to African arts and crafts as to European Expressionism and Baroque.
Driftwood pieces, strings, bones, feathers, gauze - all of which are devoid of any commercial value - are cut, carved, stitched, and glued onto surfaces which are then dramatically altered with pigments and paints. Barbara's technique of applying paint, being free of form and dynamic, opens a view into an " inner " landscape. It invokes the unconscious " soul of things ".
All these processes transform the works into archetypes, not unlike icons. Barbara's dynamic concept revolves around the never-ending process change, transformation and renewal, resulting in an homage to the power of life.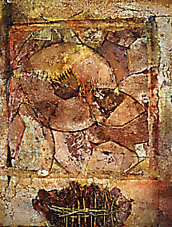 " Kraal "

, 1999
Mixed media
760x575 mm
© Barbara Pirron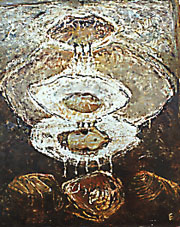 " Relics-Skull "

, 1999
Mixed media
470 x 380 mm
© Barbara Pirron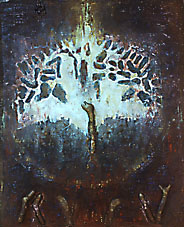 " Germination (Geode) ", 1999
Mixed media
575 x 465 mm
© Barbara Pirron