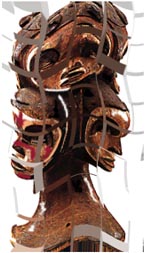 PROJETS SINGULIERS > AFRIQUE VIRTUELLE > GALERIE VIRTUELLE > NDASUUNJE JOSEPH SHIKONGENI
---

NDASUUNJE JOSEPH SHIKONGENI

Painter


The following artworks are commented by N.D. Shikongeni.





"Makishi 'n the Black Fish", 1998
Linocut
175 x 305 mm
© Stephan Beyer

" This art is talking about a cultural dance from Caprivi. In the background, one can see two women in traditional Nama dress dancing. "




"I and I", 1998

Cardboard print

495 x 758

© Stephan Beyer

" I and I is picture or printing that talks about myself, rising from the egg. There will be a time, when man has to rise from the system and be natural ".

"The Power within", 1999

Cardboard print

281 x 573 mm

© Stephan Beyer

" The power that the African people had to fight for. But now they don't use it to unite Africa. One Power. "



"Tate Kalunga Bless Our Food", 1999
Cardboard print
467 x 388 mm
© Stephan Beyer

" In Africa before you eat you must pray to the Almighty who provides for us "



"Oshigadhi"
Linocut
173 x 346 mm
© Stephan Beyer

" Oshigadhi is a storage where we store mahangu in Ovamboland (Northern Namibia). You have to work hard in the field for survival ".






[an error occurred while processing this directive]