Catalogue des Oeuvres Complètes & Expositions de Frank J. Malina
Database of Frank J. Malina's Artworks & Exhibitions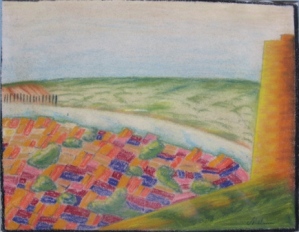 Frank Malina, Village from a Tours area chateau
Credit photo : Fabrice Lapelletrie

Cette base de données propose le catalogue des œuvres complètes de Frank J. Malina ainsi que les expositions où elles ont été présentées depuis 1953.
Elle a été compilée par Fabrice Lapelletrie dans le cadre de son doctorat.
Si l'ensemble des œuvres est repertorié, la base de données est encore en cours d'élaboration : des illustrations viendront bientôt la compléter.
This database offers the complete catalog of Frank J. Malina artworks as well as the exhibitions where they were shown since 1953.
It has been compiled by Fabrice Lapelletrie in the frame work of his Ph.D.
If the whole body of works by Malina is listed, this database is still a work in progress: illustrations will be added soon.