Biography : Elizaveta Glukhova is a researcher and a media artist. She studied applied arts at the Moscow State Stroganov Academy of Industrial and Applied Arts. In 2014 she continued her education at the Graphic Design department of the Royal Academy of Art in
The Hague, from where she graduated in 2018. She considers herself a curator of ideas and a storyteller and implements this approach to her autonomous as well as applied practice.
At the end of 2018 Elizaveta joined the ArtMoonMars group and became a co-curator of the Moon Gallery (www.moongallery.eu) project. Together with Anna Sitnikova and Bernard Foing, she works on the promotion of interdisciplinary collaborations and innovative design thinking inspired by the challenges of human space exploration.

MOON GALLERY: THINK BIG, BUT SMALL
Anna Sitnikova (1, 2, 4), Elizaveta Glukhova (1, 2, 4), Bernard Foing (1, 2, 3) and Moon Gallery team (1) Moon Gallery (art@moongallery.eu), (2) ILEWG International Lunar Exploration Working Group (3) ESA ESTEC, (4) KABK Royal Academy of Art
Abstract : Moon Gallery [1] is an international collaborative artwork and a gallery of ideas worth sending to the Moon. Moon Gallery intends to launch 100 artefacts to the Moon within the compact format of a 10 x 10 x 1cm plate on a lunar lander as early as 2022. In this Petri dish-like gallery we are developing a culture for future interplanetary society. What are the ideas we want to promote into the future? What are the ideas we want to leave behind?
Moon Gallery as a pilot platform within the framework of the Moon Village, ITACCUS & ILEWG aims to instigate inspiration for the global space exploration and demonstrate how the challenges along this journey drive innovative design thinking and interdisciplinary collaborations. Art Moon Mars collective leads this project, coordinates events and develops content through a series of open calls.
We invite art projects and artefacts, inspired by the Moon and human exploration. One of the biggest challenges of space exploration is a disparity between big ideas and resources for their realization. We ask our participants to think big but small. Each idea has to fit within just 1 cubic cm. To answer this challenge we strongly encourage interdisciplinary cooperation: bridging engineering, science and art together.
Mission Statement:
We hope to bring the best of humanity to the Moon, and to bring the benefits of the Moon to all people on Earth through a sustainable exploration process. Our initiatives connect Art, Moon, Mars and beyond. This includes the organisation of meetings, workshops, art science space classes and projects at various universities, sessions at international conferences, art exhibitions, musical and visual performances, and art science space platform - Moon gallery.
Miniature artworks - payloads will serve as seeds of new culture, designed to inhabit and make the Moon a more habitable place. Each piece is a part of a collaborative artwork and an evolving shared vision of Moon Gallery:
What would be our new values and ideals, aesthetics in space based on lessons learnt on Earth? How for example sculpture would work in 1/6th gravity? And how our bodies and perception of beauty will change (while our bodies adapt to new conditions)? How would we perceive colours without the atmosphere? Which new art forms will sprout?
Relevance/significance:
promoting cooperation: bridging innovation, science and art, crossover with space research, developing a space art experiment;
stimulating research: collective reflection on artistic heritage, analysis - how to design for space (1/6th gravity, extreme environment);
promoting artistic quality: offering artists follow up opportunities involving space science expertise;
reinforcing international position of artistic practice: "International cooperation towards a world strategy for the exploration and utilization of the Moon - our natural satellite" (International Lunar Workshop, Beatenberg (CH), June 1994);
exemplary commissioning: follow professional process - idea - concept - feasibility - pilot project - Earth prototype - Moon Gallery commission for space.

Acknowledgements:
We acknowledge Alexander Zaklynsky contribution to the project research, development and production. We acknowledge Moon Gallery artists, and in particular: Mary Kuiper, Jorick de Quaasteniet, Jamal Ageli and Ronald Vles for support in Moon Gallery events.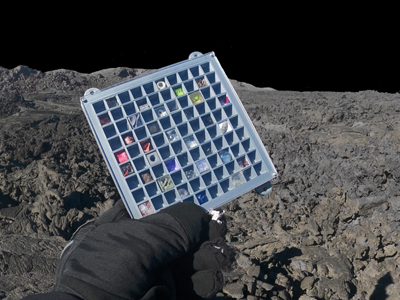 Moon Gallery during the analog & simulation campaign EMMIHS-II, HI-SEAS, Hawaii. Image by EMMIHS-II crew.