Biography : Minna Långström is a media artist and film maker from Helsinki, Finland. Her artistic work consists of participatory cinematic installations, short films and documentaries. Her work processes tend to be extensively researched and interdisciplinary. Her latest film "The Other Side of Mars" (56 min, 2019) brought her in contact with geologists, astrobiologists and Nasa engineers involved with the current Mars missions. Premiering at the DocPoint Documentary Film Festival 2019, and screened at festivals around the world, the film looks at the role of images in these missions. Her previous films and artwork have been selected to numerous film festivals and exhibited at museums such as Kiasma Museum of Contemporary Art and Frankfurter Kunstverein and in galleries such as InterAccess gallery in Toronto. Långström was an assistant professor in Moving Image at the Academy of Fine Art in Helsinki 2008-2012, where she also developed course concepts critically connecting media art, science and technology. She has been an artist in residency at FACT, Liverpool, IASPIS, Stockholm and Space Studios for Art and Technology in London.

A Mars Exploration Into the Image - the background research of the film "The Other Side of Mars"
Abstract : The recent documentary "The Other Side of Mars" presents a discussion about the virtuality and materiality of images, in the context of Nasa's Mars missions and related imagery. Witnessing the Mars Science Laboratory researchers' close-up engagement with the Martian terrain during the making of the film brought about questions about the promises and limits of photography, interpretation of an inaccessible place via 2D-imagery, the role of perception, and the scientific value of imaging.
The first photographic meeting with the Martian surface took place just decades ago, and although there were reliable data evidence of Martian atmosphere and surface conditions speaking against these life forms, it took an orbital photograph to finally settle the last remaining ambiguities on this issue. The history of the exploration of Mars, in particular, is full of assumptions colored by our desires, which by no means ended with the first (telescope or spacecraft) photographic images of the planet.
From the early days of Martian photography, cameras and other photographic technology has become an increasingly pervasive part of the various kinds of tools the spacecraft are equipped with. Today NASA has whole units devoted to scientific photography, and the various applications of images as increasingly complex tools makes imaging itself emerge as a science in its own right. The background research and the material accumulated during the production of the film on Martian photography can also support a larger discussion about our past, present and future relationship to images in general. Several of the researchers and engineers interviewed for the film are female, and part of the background research was devoted into the history of women in Astronomy and space exploration, and what the circumstances are like today for women in these fields.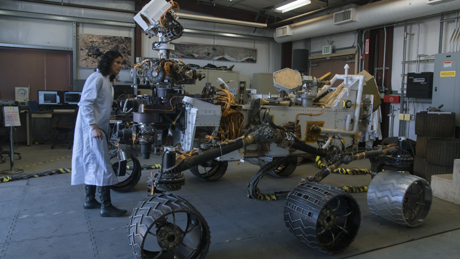 "The Other Side of Mars", image courtesy of napafilms ltd